Tough-to-trust offense a real threat to Tennessee's season
Thing happened again.
You know, that thing where Tennessee's offense implodes to a degree that makes it all but impossible to win.
That thing happened again Wednesday night in Gainesville, ending with the second-placed Vols suffering a 67-54 loss, which they are known at the complex, still partially known but now known as the Stephen C. O'Connell Center , absolutely deserved.
It remains difficult to understand an offense that rarely breaks wind but needs new underpants after every single one. There's never just air in these cookies.
Playing away in your league is tough. Point. It's not easy and it's not meant to be easy. But these Vols are a very good and very experienced team, so they have it easier than most. At least most of the time. Tennessee had won 22 of their last 24 SEC games as of Wednesday night, and the Vols had won nine straight SEC games away. These numbers are no coincidence.
Tennessee Senior Guard Santiago Bishops (Photo: James Gilbert, Getty)
Tennessee is also used to playing high-ranking games, so the jump from 4th to 2nd in this week's poll isn't a problem. Any suggestion along these lines is silly. Being No. 2 as a street team isn't a bit different from playing as a No. 4 or No. 5 on the street. The only number that changes things is #1, and that's not what these vols are – at least not in the polls. They were analytically at the forefront of the pops, but the majority of fans don't address that. People have jobs and spouses and partners and kids and dogs and other things. Most of them don't comb through KenPom and Torvik like we psychopaths do.
None of that was a problem for Tennessee.
However, there was a problem and most of us are familiar with the problem. If you've watched basketball in Tennessee over the past few years, you know the problem.
It's the offense. It's always the crime.
Tennessee's offense is a beautiful partner who will cheat on you from time to time. You can love it. You'll be amazed when everything is jazzed up for a night on the town. You can appreciate the way other people in the restaurant look at it because you know it's yours.
But once or maybe twice a month it will cheat you. And it will be on camera for all to see.
So you love it But you don't dare.
We know how these relationships usually end, don't we? Sometimes there's real regret, real forgiveness, and a happy ending. Most of the time, however, it ends with two Christmases.
Texas is one of the better defenses in college basketball, and Tennessee absolutely set it on fire over the weekend. Florida also has one of the better defenses in college basketball, and Tennessee burned against it just four days later.
Give glory to the Gators. They read their scouting reports, complied, and made Tennessee uncomfortable. They even rallied as Tennessee fought their way back up front and looked like they were running away with it as usual. Florida deserved the win and the Vols deserved the loss.
But you can't just credit Florida and call it a day. You just can't. Not if Wednesday's game followed the same frustrating script as most of Tennessee's rare losses over the past two seasons.
The Vols' loss to Colorado earlier in the season could largely be down to poor defense, poor focus and a general arrogance in believing the struggling Buffaloes would take you on the chin. Because of me. There wasn't much to complain about this season's narrow loss at fifth-placed Arizona. That was a good game that Tennessee took a hard street whistle and still had a shot at winning. This is basketball. It happens. Because of me.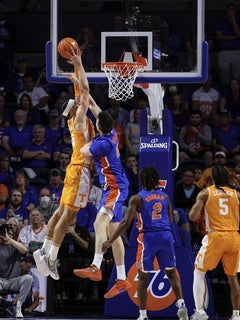 Tennessee senior forward Olivier Nkamhoua (Photo: James Gilbert, Getty)
But then there's the rest. Florida and Kentucky this season and Villanova, Texas Tech, Texas and Arkansas last season. Tennessee didn't score 60 points in any of those games, and only the Villanova game was pretty much and directly out of reach. The Vols would have won the remaining games with a below-average offensive performance. Tennessee even had five extra minutes in the overtime game against Texas Tech and still only scored 52 points.
It would be one thing — and in some ways less frustrating — if Tennessee really were a bad offensive team. But that's not it. There are more than 350 teams in NCAA Division I college basketball, and Tennessee's offense has been in the top 40 for most of the season, with some time spent in the 20's. It's not a serious offense. It's not a big offense, but it's a good offense. This is not a wild take. It's a statistically supported claim. Tennessee was also a top-40 offensive last season. Again not bad.
But when it's bad, it's deadly bad. In college basketball, that makes it potentially season-killing bad.
Tennessee's best defense in the nation and normally good offense would make it hell in a postseason series on wheels. Wednesday's loss only dropped the Vols from 1st to 2nd at KenPom. Statistics don't lie. Any team in the country would at least push their limits against Tennessee in a series.
But there is no such thing as a postseason series in college basketball. You lose, you go home. And to even reach the Final Four, you have to beat four teams, including at least three good teams, without losing once.
Who could trust this criminal offense to make this happen? Who in their right mind could trust him?
Sports — especially sports fandom — is not about trust. It's about belief. It's about picking yourself up off the ground when something goes wrong and getting up again with the belief that better days are coming. They don't always come. But sometimes they do. Ask John Elway, Peyton Manning, the Chicago Cubs, the Boston Red Sox or even little ol' Leicester City Football Club from our cousins ​​across the pond. Ask Ole Miss baseball coach Mike Bianco, who for years drove this passionate fan base insane with close misses before finally breaking through and leading the Rebels to a College World Series title last season.
Never say someone can't win the big game while they're still in the game. If you're good enough and keep knocking on the door, sometimes you'll get there. Or you can become a Ty Cobb, Charles Barkley, Barry Bonds, Ernie Banks, Earl Campell, Dick Butkus or Pavel Bure. That is also possible.
Will Rick Barnes – a Hall of Famer no doubt – be with the former or the latter? We do not know it. We are not. Some will suggest they know. They don't.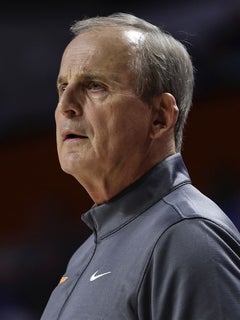 Rick Barnes, Tennessee basketball coach (Photo: James Gilbert, Getty)
Here's what we do know: There isn't a single all-timer team in college basketball this season. Even the best teams in the country have a potentially fatal flaw. You could – and this author would – argue that Purdue looks at least a solid notch above the pack right now, but even these Boilermakers have some flaws and occasionally look very beatable. They don't always look good on defense.
Here's something else we do know: Tennessee is very solid in this slightly larger-than-usual roster of teams, very near the top of college basketball. The Vols have a defense that's on the way to becoming historically great, and they're usually pretty good and occasionally great on offense. They have a lot of size and experience, and they have one of the best point guards in the country. They're not perfect, but this particular season, they absolutely have what it takes to make the Final Four and even win a national title.
But they won't make it unless they find ways to avoid these disastrous offensive excursions.
Make no mistake, Barnes and his players know that's the problem. You don't deny it. You specifically mentioned it many times on Wednesday night.
It is important to understand the problem. That's step one. But you still have to fix it, or you just have to hope you stay hot during the postseason. Tennessee won't be naively hoping to stay hot. It will work on it. These players are smart and caring, and so are their coaches. Effort and focus are not problems with this bunch, and they don't become problems either.
However, is this problem fixable? Perhaps. Maybe not. Tennessee doesn't have an enormous number of players who can consistently create their own shot and attack the rim against really good defenses. That's not what Tennessee's offense is supposed to do, and it's not usually something Tennessee has to do. Even on nights when these vols aren't quite up to speed, their system gets them to candid recordings. It almost always does. But sometimes those shots just don't come up and you have to make a play when there isn't a play to be made. Tennessee does not excel in this area. That could be an insurmountable problem that will end this season early. The only solid idea at this end is that five-star rookie wing Julian Phillips needs to get as aggressive as he was at times earlier this season because of his ability to get to the edge and cause damage. He just has to do it and he has to be told he has to do it. That's what this team needs.
Maybe Barnes was too focused on defense. Perhaps. That seems doubtful from this ending – that's not a bad offense on paper either – but the argument is plausible and cannot be dismissed out of hand.
Maybe it's something else. Perhaps Santiago Vescovi's left (firing) shoulder problem is more problematic than he and others in the program have suggested.
Regardless, there is a problem and it cannot be ignored. Unless diagnosed and treated, ending this season before it should for a team of this caliber is a very real threat.
This thing – and it's very much a thing – needs fixing.